YouTube continues to be a rapidly expanding social media platform as content creators are constantly uploading videos. As a viewer, we simply have to type in the search bar about our desired topic and we are led to a five to seven minute video of information. To the viewer, this process takes under ten minutes. However, to the creator, there are hours of script-developing and camera work that result in the short video that they upload. It is a creative process that is time-consuming and challenging, but it is very rewarding in the end.
Have you ever wondered what it was like to be behind a camera or to be included in a script-writing process? Here at PopRock Academy, we offer a YouTube Production and Acting class. If you are interested in film-making and production, this is the perfect course for you. In the YouTube class, students learn how to be comfortable in front of a camera and practice allowing their personalities to shine through in both improvised and scripted acting. Students are also encouraged to take part in writing scenes for shorts, which are later filmed in class and uploaded onto our YouTube channel.
Is your child between the age of nine and seventeen and interested in acting? Do they have a big personality, or need some help opening up to others? If so, we invite you to be part of the exciting and energy-filled group of students at our school. Send us an info request or give us a call at 626.282.[ROCK]7625!
Now that it is almost back-to-school season, there are a lot of things to think about as everyone prepares to transition into the Fall season. We all know that you can choose to improve yourself at any given time, but this is also an opportune moment to do so. Even though it is not the start of a brand new year, it is technically the beginning of a new school year. So, rather than calling it a "New Year's resolution," we'll call this a "new school year resolution." I believe that this will serve as a great reminder for parents and students alike.
Out of all of the things you can choose to work on for yourself, do not forget the importance of enjoying what you are doing. We can all get so caught up in the process of trying to perfect our task that we act robotically. However, it is so important that nobody forgets how to find enjoyment in what they are doing. So, enjoy the process and give yourself a break when you need it!
There is a time and place for everything. There is a time to be silent, and a time to sing. There is a time to listen, and a time to express yourself freely. Whenever anyone walks through the doors of PopRock Academy, we want you to know that this is the place where you can completely let go and have fun! Who cares if your voice cracks when you're singing, or if you hit an ugly note? Who cares of you dance like a goofball, or if you forget the next line in your script? PopRock is the place to make mistakes all you want. After all, you are here to learn and we are here to help you. As long as you are having fun and enjoying the process of bettering yourself as an actor, musician, or dancer, we consider it a job well done!
Interested in starting your journey as a performer? Ask us any questions you might have through an info request or give us a call at 626.282.[ROCK]7625!
Article written by Casey Y.
It's summer-time! This is the perfect time to finally do all those things that you put off during the year when you were too busy with school or work. The thing I love the most about summer is that the longer days give you more energy to stay pro-active. It gives you extra inspiration to be productive. So why not take that energy and participate in a dance class? Maybe you can even push yourself to finally do that voice lesson that you've been putting off. Whatever it is that you have always wanted to learn how to do, it has never been a better time to start.
Something that I think everyone can relate to is the fact that we have all made excuses for ourselves. We find the smallest and simplest reasons to convince ourselves not to step outside the safety bubble. Growing up and sometimes to this day, I will see an inspiring dance video and think to myself: "Could I have been at that level if I had started earlier? What if I had decided to really dedicate myself to practice? Would I be where I wanted to be now?" Regrets come pouring into my mind about how much time I have wasted, and how much time I could have spent being more productive.
The important thing is not to allow yourself to be discouraged by what-if thoughts. The best time to start is always now. Forget thinking about how good you would be if you had only done this or that. Forget wasting your time on feeling sorry for yourself, or making excuses about how you could never be capable of doing whatever it is you want to do. Dive in headfirst to the challenge and you will see progress. Be patient with yourself and understand that no one ever became a professional overnight.
Are you spending your summer well? If the answer is yes, then good for you! Continue on your journey of productivity and conquer your inner battles. However, if the answer is no... stop and think about what it is that you want to finally start doing. If it is music, theater, or performance-related, then I can guarantee you that you just might find exactly what you need here at PopRock Academy. Send an info request and get started!
Article written by Casey Y.
Music is such a powerful force in this world, so much that I think that it is often underestimated. It has capabilities unmatched by anything else. You may have heard of the following quote from poet Henry Wadsworth Longfellow:
"Music is the universal language of all mankind."
Music is a form of expression that you can launch your entire being into, and it is so diverse. It can have rules, yet have no structure. There is no need for rhyme or reason, yet you can make it as complex or as simple as you want it to be. You can create your own songs and depending on how you make it, someone who does not speak the same language as you will know exactly what you are trying to say. You can even play a cover of a song and experience the emotions that the writer lovingly poured in the details of the words or the tune.
Growing up in my teenage years, I was just like any other typical teenager. I felt that the world was against me and that I was constantly being repressed. I had this constant feeling that I needed to break out and express myself somehow, that I needed to channel my stress in a healthy way. Thankfully, I started violin lessons at a young age and discovered that I loved singing. At the time, I didn't know if I was a decent singer or if I played violin well–all that mattered to me was that my hobbies made me feel alive. It made me feel like everything was going to be okay, and I knew that I owed everything to this passion. I could not see myself being the same person as I am today had I not decided to invest a part of myself in music.
Whether you are someone who is afraid to try something new or a parent who is unsure about signing up their child for lessons, please take this piece of advice: Go for it. I promise that you will not regret your decision, and the worst thing that could happen is that you might decide that performing arts isn't for you. If that is the case, then you are one step closer to discovering what you might find to be your lifetime hobby. At PopRock Academy, we have a policy that can help reinforce our promise that you do not need to be afraid to take a class here at our school. Ask about our no commitment policy by sending an info request or giving us a call at 626.282.[ROCK]7625!
Article written by Casey Y.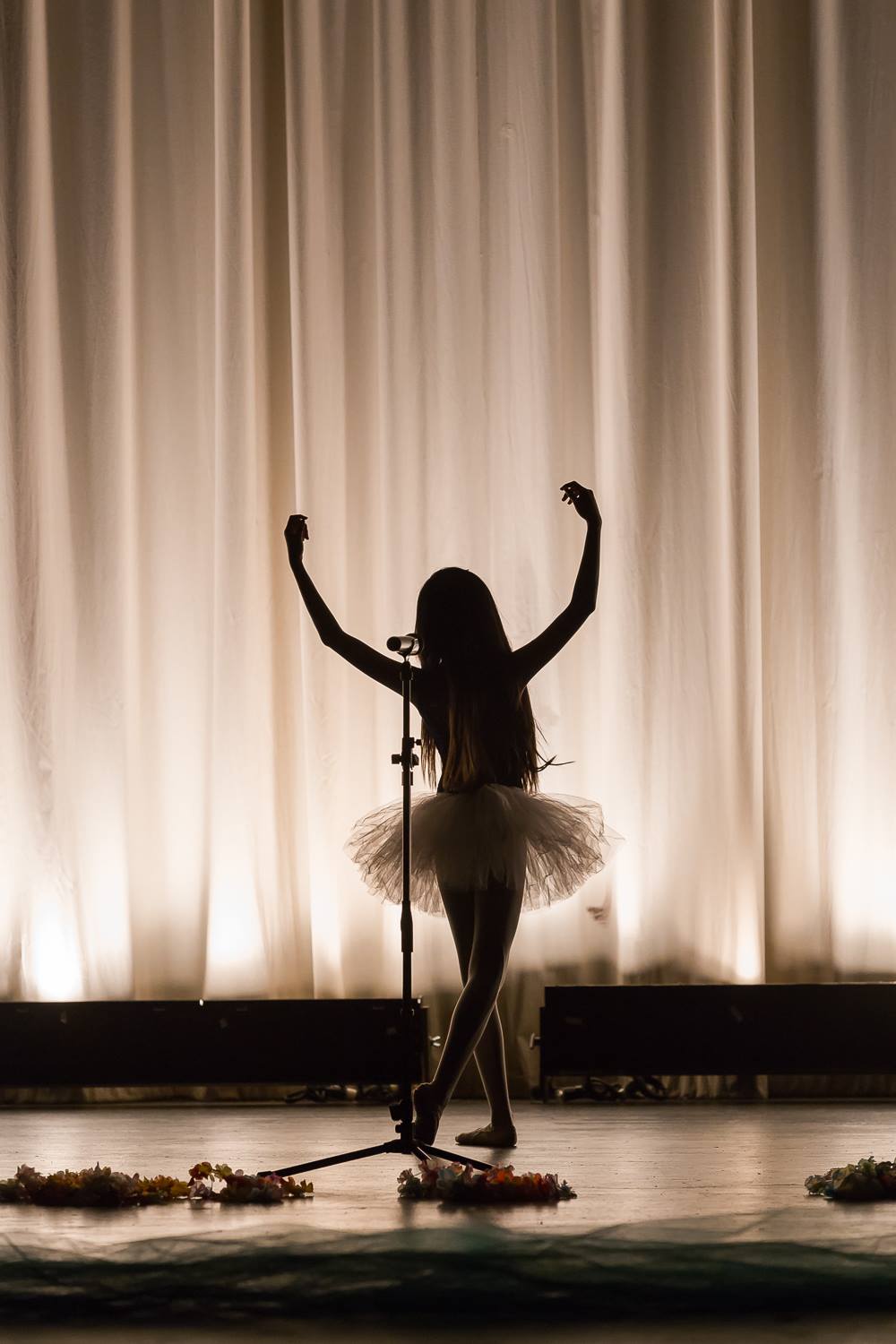 "Ballet requires a huge amount of balance, repetition, and practice. You are always reaching to get to the next level, which is always out of reach. You have to enjoy the work. That's really the journey. At the end of the day, ballet is an Art and it should look effortless and poetic"- Isabella Boylston Principal dancer with The American Ballet Theater.
For dancers our bodies are our instrument. In order to achieve effortless movement, training is a consistent daily routine. Dancers train for hours a day and it comes as no surprise when dancers acquire an injury. No matter how "safe" we work, sometimes our bodies will react to the excessive amount of physical demand on the body. How can dancers prevent injuries to the best of their ability? In an article "Common Dance Injuries and Prevention Tips" three Johns Hopkins experts studied in detail dancers, their injuries, and how to prevent them. Dr. Raj Dau, MD said:
Eat well and stay hydrated before, during and after class.
Get enough rest and avoid overtraining.
Do cross-training exercises to build strength and endurance in all parts of your body.
Always wear proper shoes and attire.
Always warm up before training or performances.
Lead a healthy lifestyle and get to know your body.
If you are interested in learning more about the program or sign up for classes, call our office at 626-282-7625 or contact us here.
Schedule
Request Info