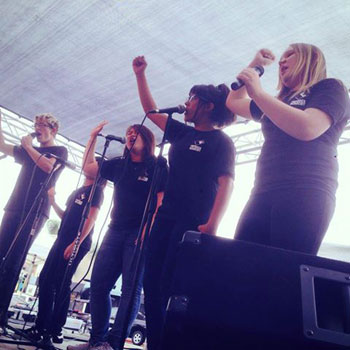 By Paul Kwo
I am often fascinated by so many parents and their reasoning for sending their child to piano lessons. Having been a piano teacher for a huge part of my life, I am thankful for their notion of how music lessons are beneficial for a child's development. Having music theory and piano skills can be enjoyable for a person once they have struggled through ten plus years of lessons. According to many research articles, music lessons can help a child in other school subject matters etc. But what boggles my mind is why parents do not send their child to voice lessons with the same ferocity.
So many parents think voice lessons are only for children who wants to become singers. But oddly that same notion doesn't apply to piano lessons. But if we just pull back a little and think about voice lessons, a different picture emerge. Voice training is possibly the most practical training a student can partake in.
Not counting our attempts to impress our bosses and co-workers during post-work karaoke sessions, in nearly every work field an adult enters, he or she will have to be using their voices. From board presentations to making a sale to clients, our voices are our most valuable tool in accomplish our work. Good voice lessons can certainly have a positive effect in all such endeavors.
1. Voice lessons improves voice textures.
Ever made fun of a co-worker with a thin and nagging voice? The unfortunate reality of the world is human beings are affect by superficiality. Aside from the way we dress and the way we carry ourselves visually, we are affect by what we hear and what we smell. A more pleasant voice certainly will carry more weight when it comes to trying to sell yourself, your skills or your products to any potential employer or clients. This texture certain can be improved with proper voice training. You do not need to be a professional singer to benefit from a thicker and more present voice.
2. Voice lessons improves stamina.
Keeping a healthy voice that can help carry you through long presentations is just another simple reason to train your voice. We all know not to walk into a presentation physically tired. The same is true of the voice. Going into a presentation in front of a board of trustee with a voice that sounds like you've been screaming on a roller coaster the day before doesn't abode well with confidence in you and your project.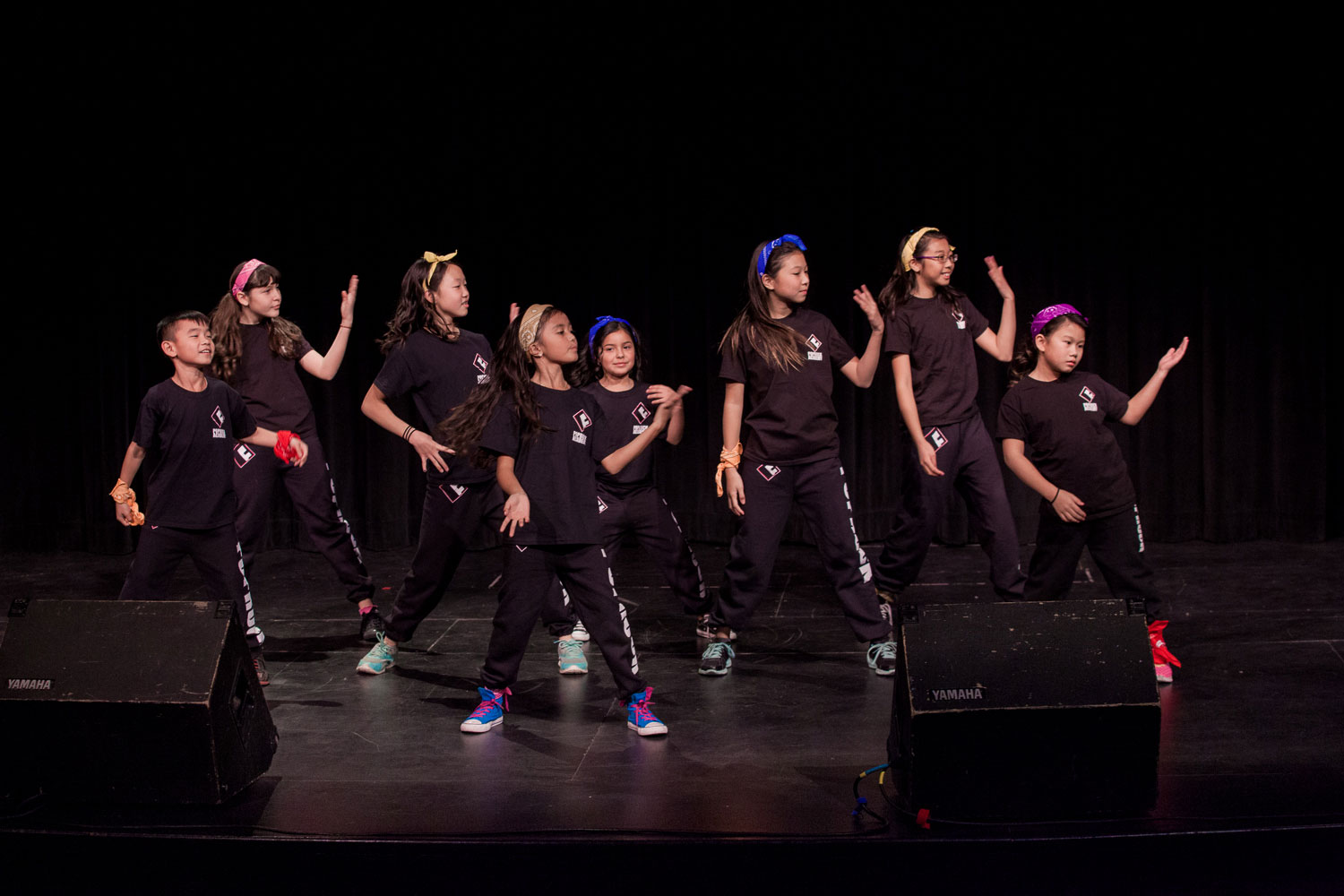 By Alexia Reiman
In the same way you take care of your guitar if you are taking guitar lessons, it's important to make sure you take care of your body if you are taking dance lessons. No matter what style of dance you decide to explore, it will require mental focus and physical energy. Here are some pointers to keep in mind when on your way to take class:
*Full meals make for happy dancers!
You will want to make sure you eat a full meal well before you are going to class. Eating right before class can result in an unwanted stomach ache, and not eating enough before class can leave you feeling dizzy and lazy during class. Whether it's breakfast before Saturday morning hip hop or dinner between school and an evening of ballet, be sure to make eating a priority! If for some reason you are rushing, make sure to at least bring some healthy snacks with you such as fresh fruit, nuts, yogurt or a granola bar. And don't forget about drinking plenty of water before and after class!
*Get some Zzzz's…
The last thing you want is for your dance teacher to catch you sitting on the floor zoning out during class! Our ability to remember choreography suffers when we did not get a good night's sleep, as well as our likelihood to pay attention to details in class. Set up your bedtime routine so that you can consistently get enough sleep, preferably at least 7 hours, and your body and mind will thank you (as well as your dance teacher.)
*Dress the part
Since our body is our instrument, it is important to treat it as our way to express ourselves as artists. Make it a point to know what attire is appropriate for the style of dance you are taking, and then put your own twist on it. Something as simple as a new sleek hairstyle for jazz or a special pair of sneakers for break dance can put you in the mood to show off your skills. Owning your style will make you feel more excited to go to class and express your personality. Enjoy being you!
It's that time of year again when school is starting back up. This is the perfect time to add a new activity into you or your child's schedule. PopRock Academy has some great new programs starting up as well our amazing ongoing classes. Some popular classes are Triple Threat Glee, KPop, Hip Hop, and a brand new class PopRock YouTube. Stop by the front desk to get more information and sign up today.
Here are a few tips to help you prepare for attending that new class or lesson.
1. Make sure you bring water. The summer heat is only going to get worse this month and next. Whether you are dancing, acting, or taking a private lesson the heat will get to you. Help save the environment a bit and bring your own reusable bottle of water. Your body will thank you for it.
2. Dress comfortably. It's important to dress comfortably for dance class. Showing up to break dance class in jeans will make it hard to move. Do yourself a favor and wear clothes you can move in. Dance class isn't a fashion show. Your dance teacher will thank you for it.
3. Wear proper foot attire. It's hot out so flip flops are very popular right now. Unfortunately those are not great for dance. Make sure to bring tennis shoes with you if you are in a dance class. Your feet will thank you for it.
4. Come ready to have FUN! This is probably the most important tip I can give. No matter the class or lesson, enjoy your time. Learning a new skill can be so exciting. You will thank yourself for it!
Ready to apply these tips to class? Sign up for a class by sending us an info request or give us a call at 626.282.[ROCK]7625!
Article written by Jessica K.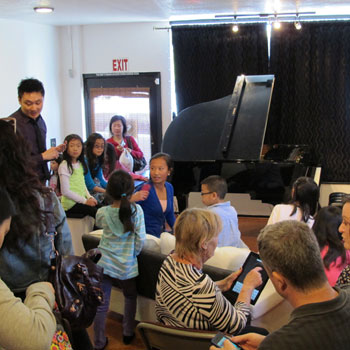 By Paul Kwo
For me, a school is more than just a place to learn to sing, or dance or play and instrument or act. It is more than just coming in for an hour a week or whatever the length of time for a class or a lesson. It is not just a place where I try to get in as quickly as possible and leave as quickly as possible. I believe a school should be a community. Remember that old saying "it takes a village." It certainly takes a village to educate our next generation. But too often we simply reduce education into a system. Schools are reduced to numbers and grade. Training is reduced to a curriculum.
Certainly all the above has a place in education, but our mind is far more complex than letters and numbers that can be fully trained with a set curriculum. It requires a village of people to stimulate us, and to inspire us to learn and grow.
I founded PopRock Academy on the principles of bringing together a community of people here, in Alhambra, in San Marino, San Gabriel, and in South Pasadena, and Monterey Park plus Arcadia and beyond, so that we can nurture new artists whatever their age or background. We wanted to create a school that is warm and inviting, like a home to gather together and share knowledge and wisdom. It is a place to community and a place to share our individual visions. It isn't enough just to have the best teaching staff around, but we have to provide our staff and students an environment that is conducive towards their growth. We want both our staff and our students to grow. We want a positive, friendly and inspiring atmosphere so that all our students can reach their full potential.
So trust that place that feels good and friendly when it comes to finding that school you want to enroll in. If you don't feel excited and inspired by the location, then that's not the place for you to be. Art needs inspiration and part of that inspiration is the community that we surround ourselves with.
Our school PopRock Academy is in the heart of San Gabriel Valley in downtown Alhambra on 2nd street next to Alhambra High School. We are south of San Marino and South Pasadena, west of San Gabriel, Temple City and Arcadia, north of Monterey Park and Rosemead. We are also close to El Monte, Highland Park, Eagle Rock, Montebello, Monorovia, Altadena in the greater Los Angeles area.
Due to popular demand, PopRock Academy is now offering more Acting on Camera classes on Tuesdays and Wednesdays!
If you are interested in acting, we want to work with you regardless of whether you are a beginner or well-seasoned actor. Our acting instructors are professionals with experience in the Hollywood industry, committed to creating curriculum dedicated to the needs of each student that they work with. Our curriculum is developed by Paul Kwo, an experienced veteran actor who is best known for his role of Martin Yip in the blockbuster franchise "God's Not Dead." Students can expect to receive instruction helpful for success and adjustment to the acting industry. If you are a theater actor looking to begin acting on camera, we can help you get a head start!
PopRock Academy offers more than Acting on Camera classes. We also teach Scene Studies, Fundamental Acting, and YouTube Acting & Production. There are so many options here that you are bound to find the class that suits you best. Begin your acting journey by submitting an info request or by giving us a call at 626.282.[ROCK]7625!