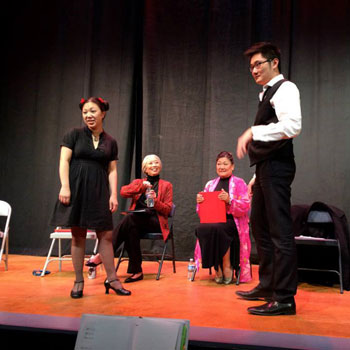 By Paul Kwo
"If you can see yourself doing anything else, go and do it." These were the words of so many of my performing arts teachers, mentors and coaches in my journey into a performing arts career. But it's not just applicable for those who wishes to pursue a professional career. It actually is applicable for anyone who wants to study performing arts.
Whether a student is studying an instrument, or voice, dance or acting, it is vitally important that they enjoy the process. Certainly young children and teenagers would most often prefer to play with their friends, watch a movie or other forms of entertainment then commit long hours of practice time into their craft. But even in those cases, the desire to grow artistically has to be innate in the student in order for them to succeed. Whether they put in 1 minute or 10 hours a week, without the love of the craft, students will simply grow their dislike of the art forms they study. Simply put, if they cannot see themselves ever enjoying the fruits of their labor, then they should be doing something else. A student must be able to say at some point or another they do actually enjoy the art from despite hating the practice time involved.
How does competition versus performance come into play?
There are lots of dance and music competitions around. From concerto competitions for various musical instruments, to singing competitions, classical ballet competitions to hip hop and break dancing dance offs, competitions are all around. They foster a competitive environment between students. There are positives and negatives to this. Obviously for winners, the winnings often build self-confidence and assurance. It also encourages others to strives for better the next time around. But the problem far out weights the positives.
Competitions are only for the seasoned performer with a very strong will. For most, competitions too early on can create a negative sense of self-ability. It makes a student feel inadequate when they loose. Sure we all tell our students not to put too much emphasis on winning, but it is impossible to not feel bad on some level when we return home empty-handed. Then there are those competitions that gives out trophies to everyone, even simply for participating, completely void of any meaning in the awards. Students see through these meaningless trophy and the effects are still the same. Many students find such harsh competitions causing them to loose interest in their love of the art.
Instead at PopRock Academy in Alhambra, we focus on performance. Certainly we don't write off competitions completely. If a student is absolutely ready both technically and mentally, we will support their dreams of competiting and winning. But performance opportunities are far more valuable than competitions. Ultimately we learn performing arts to perform. It is not a competition, but rather a collaboration. It is about working together to create something better, something meaningful. Having plenty of performing opportunities if far more important than having plenty of competition opportunities.
Performances builds self-confidence just as competitions can, but without the added stress of having to win and beat out the other students. It is about the sharing of music, dance or theatre. It is about showcasing our best and supporting each other to do the same. It is about a community of performers gathering and growing together as a group. Performing arts is hard, and artistic expression often requires vulnerability. Performance opportunities provides students the opportunities to continually express themselves without feeling a sense of lose. When students have an entire time table of performance opportunities lined up, they know if they mess up today, they always have tomorrow to try again. At every performance, students gain an opportunity to learn from their mistake, because face it, there are no such thing as a perfect performance.
So let's create more performance opportunities for our students to enjoy, to learn and to grow. Share your love for the arts with performances. Support your fellow students as we are all in this together. There is room for us all in the arts and we should help build everyone up, not tear each other down.
PopRock Academy is located in the San Gabriel Valley. We serve the cities of Alhambra, San Marino, South Pasadena, San Gabriel, Temple City, Arcadia, Monterey Park, Rosemead, El Monte, Highland Park, Eagle Rock, Montebello, Monorovia, Altadena and downtown Los Angeles.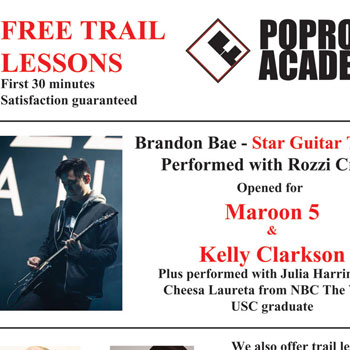 By Paul Kwo
Happy New Year! It's 2014 and so let's get ourselves started on the right feet.
PopRock Academy is so psyched to be providing free trail lessons for select teachers at our studio. We now have Guitar, Piano, Voice and Drum lessons available for students to try out a 30 minutes lesson with.
Trial lessons are perfect for students to get to know a teacher and what they are like, to see if they are compatible with the teacher. To see if they like studying at the new school.
Our teacher line up is also incredible. We have recently hired a new Guitar teacher who has performed with Rozzi Crane, who is Adam Levine's protege. He played opening for Maroon 5 and Kelly Clarkson in 2013. Our teachers here in Alhambra are incredible and extremely talented and qualified. Some come and try it out.
PopRock Academy serves the local residents of Alhambra, San Gabriel, San Marino, South Pasadena, Temple City, Arcadia, Monterey Park and Rosemead. We are also close to El Monte, Highland Park, Eagle Rock, Montebello, Monrovia, Altadena in the greater Los Angeles area. We provide private music lessons in piano, voice, guitar, drums, saxophone, clarinet and cello. We also have dance and acting classes and private coaching sessions as well.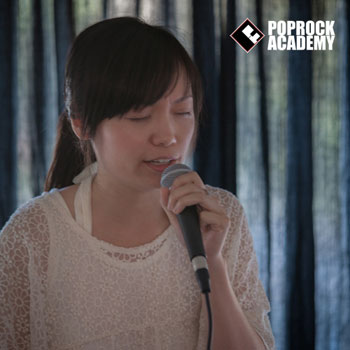 By Paul Kwo
Everybody sings. No matter how good or how bad, at some points in our lives, we all sing. Yet some people seem to be naturally more talented or blessed with a better voice than others. Some people just seem to have an innate ability to produce amazing sounds with their voice, churning out some great songs.
Just like any other skill, singing is a skill that requires practice and can be improved over time. Those who seem naturally more talented in singing simply sing all the time. Perhaps they never had a rude relative telling them that they are not a good singer, so they never stopped. They just kept going and kept singing, and as a result became better.
I love to sing. Whether just sitting at my school after hours in Alhambra and practicing till the wee hours of the night, or at a karaoke bar singing my heart out with some good friends, or on stage performing for audiences large and small in the San Gabriel Valley or beyond, or leading worship at my church in Culver City, all of these add up to my singing skills improving.
So if you love to sing, just keep singing. Whether you are in lessons or not, just keep doing it. The only thing to watch out for are:
1. Stretch your body and warm up your voice with basic vocal warm ups every day. Daily exercise applies to your voice too.
2. If it hurts, something's wrong. Get help with a professional vocal coach.
3. Drink lots and lots of water. Water is the fuel for your voice.
4. Avoid caffeine. It dries out your voice.
5. Experiment with how different foods and drinks affect your voice. A lot of it can be psychological. Generally speaking most foods don't directly affect your vocal cords. Food goes in a different pipe and never touches your cords. But your body may still react to it producing unwanted side affects.
If you want to be really good, then set up regular gigs for yourself. They don't have to be big, they just have to be regular. Some great ideas for small gigs most people can easily set up are:
1. Church worship singer and choir member. Just sign up at your local church.
2. Sign up and volunteer to sing at convalescent homes and other non-profit organizations that needs regular entertainment.
3. Attend a regular open mic.
4. Create your own home performance series. Invite a few friends, even if it's at your own home. Make it a little party. Have everyone bring some food. You can even do it as a singing circle where everyone performs for 10 to 15 minutes.
5. Perform at a local coffee shop. A lot of local coffee shops and places will host local aspiring artists. But of course this would be for those of you who are a little more seasoned and ready to get a little more serious.

But remember, the key is that you do this on a regular basis. Start off doing this once a month, so you have a goal, something to always work towards. Then get it up to once a week, so you are forced to practice and prepare material every week. If you can get it up to more than once a week, that's even better.
PopRock Academy is located in the San Gabriel Valley. We provide music lessons to residents of Alhambra, near San Marino and South Pasadena to the north, San Gabriel, Temple City and Arcadia to the east, Rosemead, Monterey Park to the South and downtown Los Angeles to the west and beyond.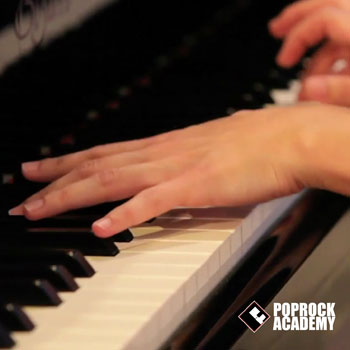 By Paul Kwo
Many studios in Alhambra and everywhere offer group piano classes. Actually they offer not only group piano classes, but group voice classes, group violin classes, group drum classes, group guitar classes etc. These are great ways for studios to bring students in to try out an instrument with a lower price point. But are they really good for the clients?
I have from the start refused to offer any group piano classes or any other group instrument class because I feel they actually are not ideal for students. Let's do the math. A student pays $120 to $160 on average for 8 to 10 weeks of classes. Each class is around 45 minutes to 1 hour long and usually have somewhere between 6 to 10 students. Split it up, the average student will get around 6 to 10 minutes of attention from the instructor if they are lucky. But if you factor in teachers starting a class and ending a class as a group, taking out 10 minutes from the equation, and factor in some students have a tendency to grab more of the teacher's attention in a class setting, most students are left with 3 to 7 minutes of actual attention in a group class. So cumulatively over 8 to 10 weeks, a student may get between 24 to 70 minutes of attention. The final verdict: $120 to $160 for 24 to 70 minutes of actual attention.
Certainly there are still things you can learn as a group in these classes. But then it's really not that big of a difference than sitting in front of a computer and searching youtube videos to teach you the same material. After all you are not getting any sort of one on one attention anyways. Furthermore, most students who finishes a group class usually still have to start back at the beginning when they get into private lessons because there inevitably flaws in their techniques. So the $120 to $160 really has done no real advancement in the student's actual studies. Wouldn't it be better to simply spend the $120 to $160 on 4 to 6 30-minutes private one on one lessons instead? It would certainly be way more beneficial and the student will gain so much more with individualized attention. A good teacher can teach much more in 4 30-minutes lesson than a student can learn in 10 group classes.
So here at PopRock Academy Alhambra, instead of offering group instrument classes, we came up with a better alternative for students to begin their exploration of music if they do not want to start at private lessons. We off the Triple Threat Glee Workshop for singers that incorporates dance and acting and the PopRock Jam Sessions for instrumentalists to experience music from the beginning in a collaborative manner.
Our PopRock Jam Sessions allow students with no prior experience to try out various instruments throughout their studies in the class. They also learn to play with other students and watch other beginning students start their instrument. This is a class that compliments private lessons, instead of trying to teach what should be taught in a private lesson settings in a group setting in the name of letting students get their feet wet. We created this workshop so that even if a student is in private lesson, it would still be a class they can and should take. The class teaches students fundamental skills in various instruments as well as ensemble playing skills that private lessons cannot teach.
So instead of replacing private lessons with the lesser group classes, we invite you to come and join us at PopRock Jam Session to begin your musical journey.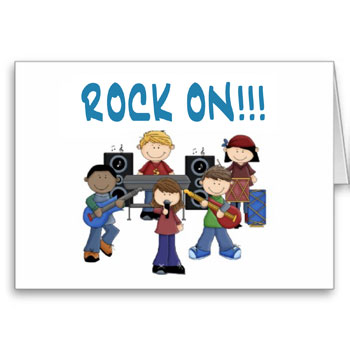 By Paul Kwo
Whether in Alhambra, South Pasadena, San Gabriel or halfway across the world, many music students dream of singing and playing in a rock band. Grab a few friends and start jamming away at mom and dad's garage. We've all seen the image of the frustrated parents hearing the ruckus the kids are making in the garage. The kids are all just jamming loudly without any guidance or supervision.
Even if the students are taking separate guitar, bass, drum lessons and voice lessons on their own, putting it together is still another daunting task. Getting a coach to work with the students is an important aspect in helping students create music in a meaningful and listenable manner. Students can ask questions and work on music together as a group with a coach that will help bring it all together.
The key towards a good Rock Band is practice. With the proper coaching, a band can get a lot done even in a short few months. It is also very useful to help students set realistic performance goals as a part of their formation. After all, what's the point of starting a Rock Band if the band isn't going to perform.
In Alhambra and the San Gabriel Valley Pasadena area, there are plenty of performance opportunities for students. Monterey Park offers an annual Got Skills competition for students free to enter. They work with Asian Pacific Clinics in Rosemead for the youth in the 626 area and beyond. We here at PopRock Academy has participated. We also have connected with many local festivals and events such as the Alhambra first friday event and the Alhambra 4th of July and Hotspot celebration to provide performance opportunities for our students. There are many open mic opportunities in Pasadena, Alhambra and Hollywood for new bands to start. Arcadia has a 626 Night Market event multiple times a year for bands to submit audition videos to showcase their talents. Most schools in the San Gabriel Valley have talent shows and competitions for their students to participate in. There are just so many ways for students to get out there and perform. And with performance opportunities, students are much more motivated to practicing and working hard.
So aside from the hard work of practicing, marketing is just as important for a rock band to flourish. Know what the band is about and what the goal of the band is. Set realistic expectation and take incremental steps towards accomplishing them. A solid marketing plan is just as important for the survival of a band. Setting crazy goals like signing with a major record label in 1 year or 2 will most often lead to disappointment causing the band to dissolve. So if your band's dream is to aim to be a working band, work with your coach on a realistic plan of attack. Know the steps that it takes to get there and be realistic about the approach. Don't just jump into it jamming with your friends in a garage and expect some amazing record producer will walk by and hear you play and sign you on the spot. No one can guarantee you fame and stardom. But with lots of hard work, anyone can be a solid working band.
Let Your Inner Rockstar Shine!