There are as many ways of teaching voice as there are voice teachers in the world. Having searched far and wide for a methodology that works for all students and coming up short, Paul Kwo finally developed his own tried and true method of Vocal Pedagogy with great results.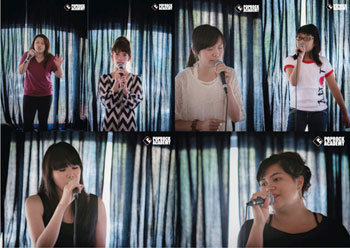 "The Kwo Vocal Method"
Healthy singing
The most important aspect of vocal teaching is to sing with no strains on the vocal cords. If the vocal cords are destroyed, then no matter how great the rest of the training is, it's useless. The Kwo method emphasize no strain singing as its most important aspect. If a student feels anything in the vocal cords beyond vibration, then something is wrong. The Kwo Method helps students sing without strain no matter how high or low, belt or not.
Placement
The Kwo Method emphasize placement first to create the healthy singing technique. 99% of the time when a student strains, it's an issue of sound placement. Furthermore, placement is what determines the style of singing from Classical to Jazz, to Musical Theatre and to Pop and Rock. The Kwo Method has a unique system to help students master placement of sound.
Emotional Attitude
The Kwo Method creates artists, not impersonators or karaoke singers. The Kwo Method draws out the unique color of the individual singer and highlights their individuality through its emphasis on attitude. When the attitude is combined with placement, an artist is born.
Full Body Awareness
The Kwo Method emphasize that singing is a full body experience. We take the emphasis away from the vocal box and places it on the entire body. This alleviate much of the added stress on the vocal cords that students tend to have when they focus all their attention all the time to only their voice box.
The Kwo Method is a tried and true method and has helped hundreds of students sing higher, easier and more resonant in even a short period of time.
Performance:
Students in our vocal program will have many performance opportunities to perform for various events including our 3 annual recitals. Students will also have the opportunity to collaborate with other singers, dancers and actors to perform.
PopRock Academy serves the residents of Alhambra, San Marino, San Gabriel, South Pasadena, Arcadia, Monterey Park, Temple City, Rosemead, Sierra Madre, Highland Park, Eagle Rock, Atwater Village, Glendale, El Monte, Montebello, Monrovia, Altadena and the greater Los Angeles area.
Request Info