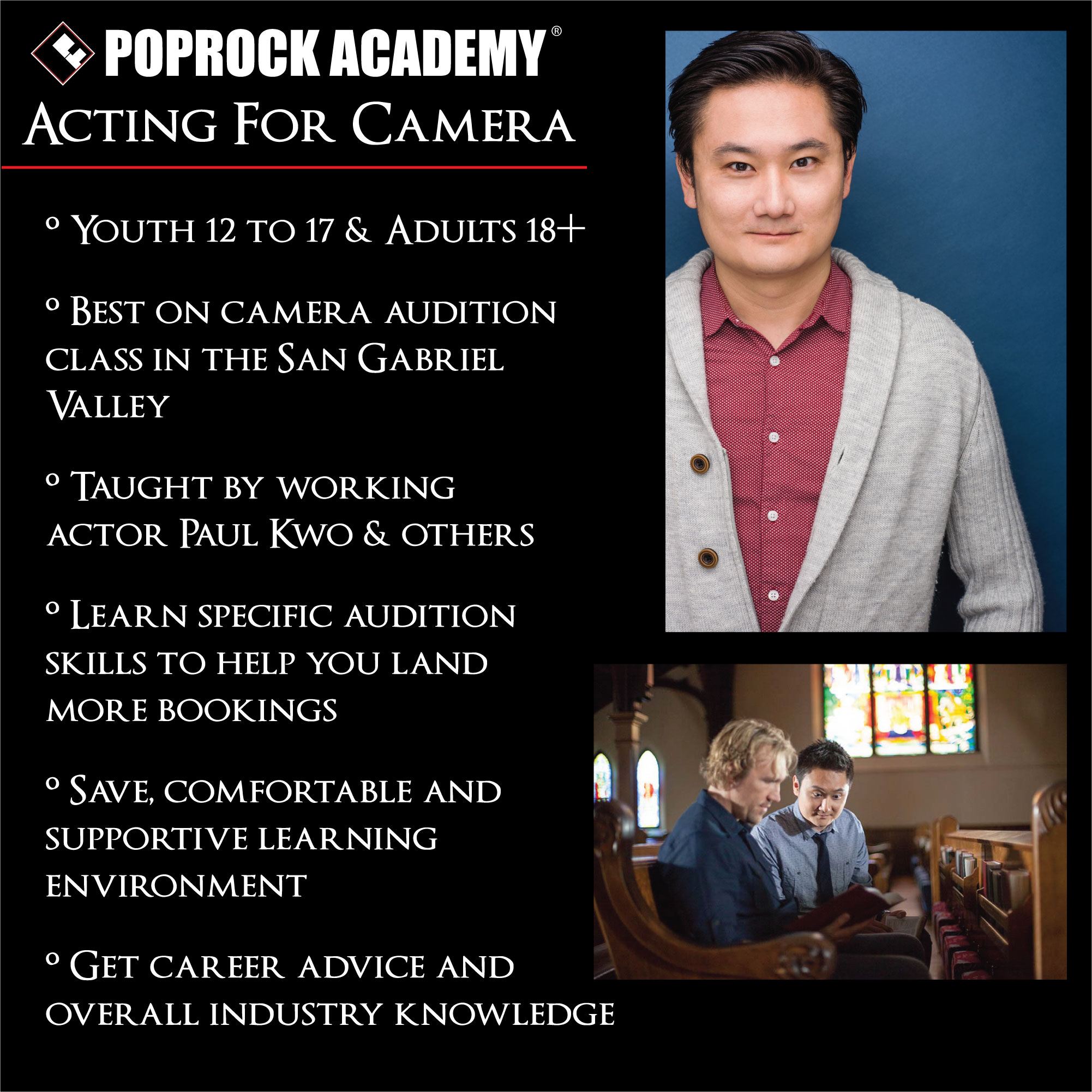 PopRock academy "ON CAMERA ACTING" prepares students for the world of acting for film and television. Our program focuses on the unique challenges acting for camera posses and help student adjust to this world.
Our On Camera Acting program welcomes students of all levels to join. Students with previous acting training in theater will learn how to adjust their existing techniques to the world of acting for the camera. Our curriculum is developed by Paul Kwo, best known for his role of Martin Yip in the blockbuster franchise "God's Not Dead" is an experienced veteran actor for the camera in film and television. Our program will give students all the necessary tools to enter any kind of on camera audition with the confidence necessary to perform well.
Requirements:
PopRock's Acting On Camera program is for student who are interested in learning about how to specifically act in front of cameras. We offer various scene studies and fundamental acting classes for in depth exploration of acting on stage and other medium.
Curriculum:
Students will work with current material from TV and films. Students will learn the different acting requirements for the different types of shows and films that they could go into an audition for. They will get a chance to develop their acting skills to make strong choices that are suitable for the material they are given.
Attendance:
Students are encouraged to attend this class on a continuous basis. Students must also be completely prepared each week in order to gain the benefits of the class.
On camera acting skills is an absolutely critical skill for any student interested in pursuing an acting career in Hollywood. It also benefits anyone who wants to have a better understanding of their performance on camera whether it's in an interview or other format. Furthermore on camera acting skills is something that must be learned as it is vastly different from performing on stage. Students who have extensive acting training and stage experience may still fail at on camera auditions and performances simply because they do not realize the critical difference between a camera and a stage. Our program is taught by actors who have extensive on camera experience and will help our students understand the medium and succeed in their performance.
PopRock Academy serves the residents of Alhambra, San Marino, San Gabriel, South Pasadena, Arcadia, Monterey Park, Temple City, Rosemead, Sierra Madre, Highland Park, Eagle Rock, Atwater Village, Glendale, El Monte, Montebello, Monrovia, Altadena and the greater Los Angeles area.
Request Info