We are excited to announce our free online program for the month of April 2020 to help everyone In our community to get through this difficult time.
We have partnered with Daurden Performing Arts Collective and the San Gabriel Educational Foundation to provide our young elementary school age students a Virtual Performing Arts Program free of charge, and a Professional Workshops Series for our teens and adults.
PopRock VP Program Virtual Performing Arts Program Free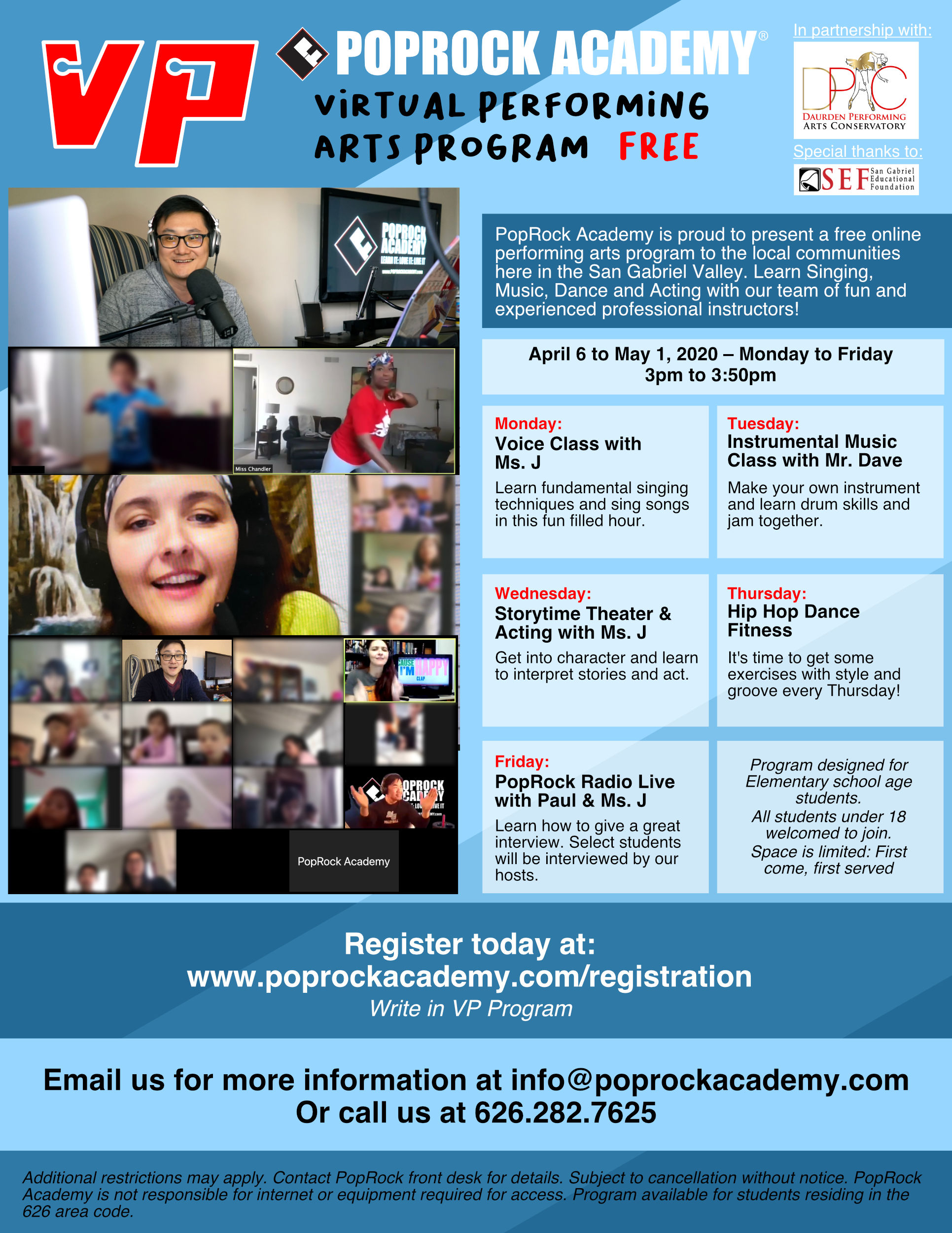 Flier of PopRock VP Program for Elementary School age students.
Monday – Voice class with Ms. J
Learn fundamentals in singing with our lovely Ms. J
Tuesday – Instrumental Music Class with Mr. Dave
Make your own instrument and learn to play with the awesome Mr. Dave.
Wednesday – Storytime Theater and Acting with Ms. J
Get into character and act out your favorite stories with Ms. J.
Thursday – Hip Hop Dance Fitness
It's time to get moving and exercise with our dance team of instructors.
Friday – PopRock Radio Live with hosts Paul Kwo & Ms. J
Learn how interview and be interviewed with our hosts Paul and Ms. J.
---
PopRock Professional Workshops Series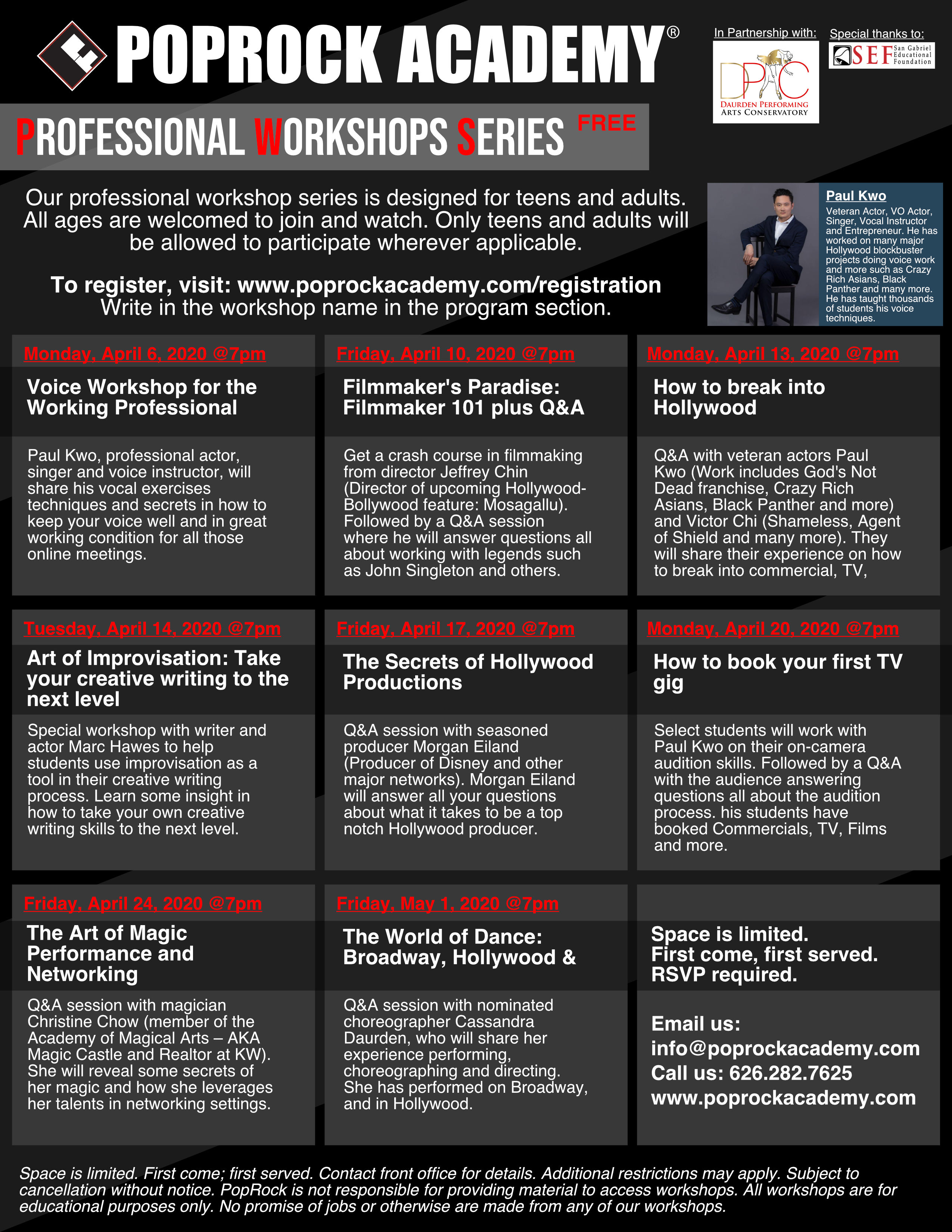 Flier of PopRock Academy Professional Workshop Series
PopRock is proud to present to our community a series of workshop the month of April to help our friends learn more.
Monday, April 6, 2020 – 7pm to 7:50pm
Voice Workshop for the Working Professional

Paul Kwo, professional actor, singer and voice instructor, will share his vocal exercises techniques and secrets in how to keep your voice well and in great working condition for all those online meetings.


Friday, April 10, 2020 – 7pm to 7:50pm
Filmmaker's Paradise: Filmmaker 101 plus Q&A

Get a crash course in filmmaking from director Jeffrey Chin (Director of upcoming Hollywood-Bollywood feature: Mosagallu). Followed by a Q&A session where he will answer questions all about working with legends such as John Singleton and others.


Monday, April 13, 2020 – 7pm to 7:50pm
How to break into Hollywood

Q&A with veteran actors Paul Kwo (Work includes God's Not Dead franchise, Crazy Rich Asians, Black Panther and more) and Victor Chi (Shameless, Agent of Shield and many more). They will share their experience on how to break into commercial, TV, movies, video games and more.


Tuesday, April 14, 2020 – 7pm to 7:50pm
Art of Improvisation:
Take your creative writing to the next level

Special workshop with writer and actor Marc Hawes to help students use improvisation as a tool in their creative writing process.


Friday, April 17, 2020 – 7pm to 7:50pm
The Secrets of Hollywood Productions

Q&A session with seasoned producer Morgan Eiland (Producer of Disney and other major networks). Morgan Eiland will answer all your questions about what it takes to be a top notch Hollywood producer.


Monday, April 20, 2020 – 7pm to 7:50pm
How to book your first TV gig

Select students will work with Paul Kwo on their on-camera audition skills. Followed by a Q&A with the audience answering questions all about the audition process.


Friday, April 24, 2020 – 7pm to 7:50pm
The Art of Magic Performance and Networking

Q&A session with magician Christine Chow (member of the Academy of Magical Arts – AKA Magic Castle and Realtor at KW). She will reveal some secrets of her magic and how she leverages her talents in networking settings.


Friday, May 1, 2020 – 7pm to 7:50pm
The World of Dance: Broadway, Hollywood & Beyond

Q&A session with nominated choreographer Cassandra Daurden, who will share her experience performing, choreographing and directing.


Disclaimer: No promise of job is made with any of our free programs or workshops. Additional restrictions may apply. See our front office for details. No raincheck. First come, first served. Subject to cancellation without notice. RSVP required.