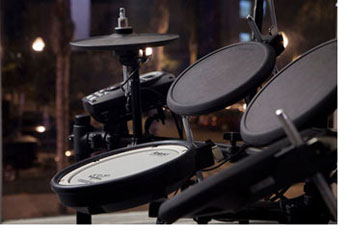 Drums are fun and a great way for young students to express themselves. We offer drum lessons to students starting as young as 5 years old to come and join in the fun. Our highly qualified teachers have years of teaching and performance experience behind them to teach our students all styles of drums in a fun and engaging manner.
Students can start with 30 minutes drum lessons. We have a full professional Roland electric drum kit as well as an acoustic kit for students to work on. Beginning students only need a pair of drum sticks and drum pads to begin their journey of becoming a drummer, costing around $25 only. It's very easy to start with very little investment to begin with.
10 great reasons to try out drum lessons at PopRock Academy in Alhambra, CA

1. Students will learn drum techniques as well as style and genres at our studio in every lesson.

2. Students will study with our amazing faculty who's fun and engaging and trained at prestigious Universities.

3. Students will get to work with practice tracks to help them lock down their rhythm and tempo.

4. Our students will have plenty of performance opportunities for them studying at PopRock Academy. They can be a part of our 2 annual recitals as well as many other performances throughout the year once they are ready.

5. We highly encourage our drummers to collaborate with our other students to jam out together.

6. We have a professional group of support staff to help with all your additional needs.

7. We have group rock band sessions that students can join to improve their jamming skills.

8. We have both acoustic drums and a professional Roland electric kit for students to learn from.

9. We provide special discounts for our students who purchase instruments and books through us.

10. We care for every one of our student's success and we welcome students of all backgrounds to join us.
Don't wait anymore, sign up today by simply call 626.282.ROCK [7625] or email us at This email address is being protected from spambots. You need JavaScript enabled to view it.
Request Info