Storytime theater class is a fun and engaging approach to help students bring to life stories and help develop their fundamental understanding of its elements. Students will work with other students with teacher's guidance to act out stories while studying character development and story structure.


Storytime theater is a great way for young students to be introduced to the concepts of acting without the stress of being in an official acting class. Both shy and outgoing students will benefit from this class as it helps shy students become more open to share and communicate with others, while helping more outgoing students to become more in control of their abilities.
Students will travel the world and explore stories from various cultures and re-enact them. From famous Greek Mythologies, to American folk tales, students will be engaged with different stories on a regular basis to be exposed to a wide range of people and backgrounds. Students will also make their own props in class to help bring to life the characters of the stories.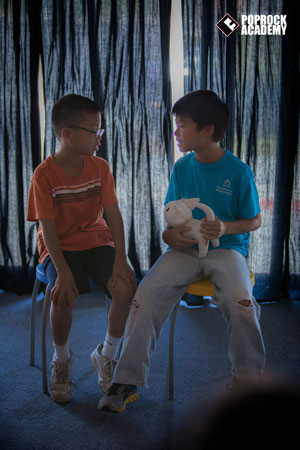 10 benefits of students taking Storytime Theater:
1. Helps improve student's understanding of story structure and concepts of character.
2. Helps develop students ability to communicate.
3. Helps reduce student's shyness and anxiety of public speaking.
4. Helps students ability to interact with other students.
5. Helps increase students enjoyment of stories and reading.
6. Beings students on their acting journey in a low pressure environment.
7. Helps improv students concentration and focus as well as sensory awareness.
8. Helps improv students listening and responding skills.
9. Helps students linguistic and problem solving skills.
10. Helps boost students self esteem.
Storytime Theatre is offered to students ages 5 to 7 years old in an hour long weekly class.
PopRock Academy provides a safe, supportive environment for students to learn how to vocally explore and express themselves in a variety of situations. We combine a variety of theater games using props and other items to help students learn to better use their voice and bodies.
Call or sign up today at 626.282.ROCK [7625] or at This email address is being protected from spambots. You need JavaScript enabled to view it.
Schedule
Request Info