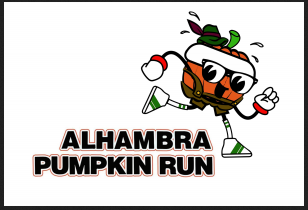 City of Alhambra Pumpkin Run
PopRock Academy is thrilled to serve the San Gabriel Valley through various performing arts courses offering a vast array of professional performance opportunities. With Autumn quickly approaching, the city of Alhambra celebrated the pumpkin harvest with its 5th Annual Pumpkin Run in the bustling Downtown Alhambra. Despite the record-breaking hot temperatures, families and friends of Alhambra gathered to celebrate the beginning of Autumn on the morning of Oct. 22, 2017 for food, live performances, and festivities. Not only was the run a great success, the day-long event included opening ceremonies, a costume contest, a weekly Alhambra Farmer's Market, local vendors, a beer garden, a pumpkin pie making contest, and a pumpkin decorating contest. With a mission to provide an all-inclusive family environment to promote physical fitness, health and fun, the annual city wide event offered a facet of expression through community fun and love.
Along with the many local businesses, PopRock Academy cheered on runners with live performances and our own booth at the Alhambra Farmer's Market. The Alhambra Farmer's Market is held on South Second Street, directly leading out to the bustling Downtown Alhambra Main Street. With fresh produce and homemade crafts, the Alhambra community gathers every Sunday for the Alhambra Farmer's Market located directly in front of PopRock Academy.
At the Pumpkin Run, our students performed a total of four numbers including two renditions of the original soundtracks of the the Broadway musical, Wicked and a cover of K-pop girl group, Blackpink's As If It's Our Last.
PopRockers
PopRockers are students who have mastered the fundamental and technical training in dance, voice, and performance. Students at PopRock Academy are invited to audition and become a PopRocker as they advance in the arts. Our PopRockers students experience intensive training in both voice and dance with the emphasis in performance. Our PopRockers students perform live at local events such as the Alhambra Pumpkin Run of 2017.
All our performances were well received by the community!
During the Pumpkin Run we had a special offer where we waived our one-time $30 registration fee for attendees and provided additional information at our very own booth at the Alhambra Farmer's Market.
Please don't hesitate to join us! Students of all ages and experience are welcomed to join us at PopRock Academy. More special promotions and offers are available throughout the year. Join us again for more special offers during major city events.
If you are interested in learning more about the program or sign up for classes, please call our office at (626) 282-ROCK [7625] or contact us here.
Photo Courtesy of the City of Alhambra
#PumpkinRun2017 #PUMPitUP