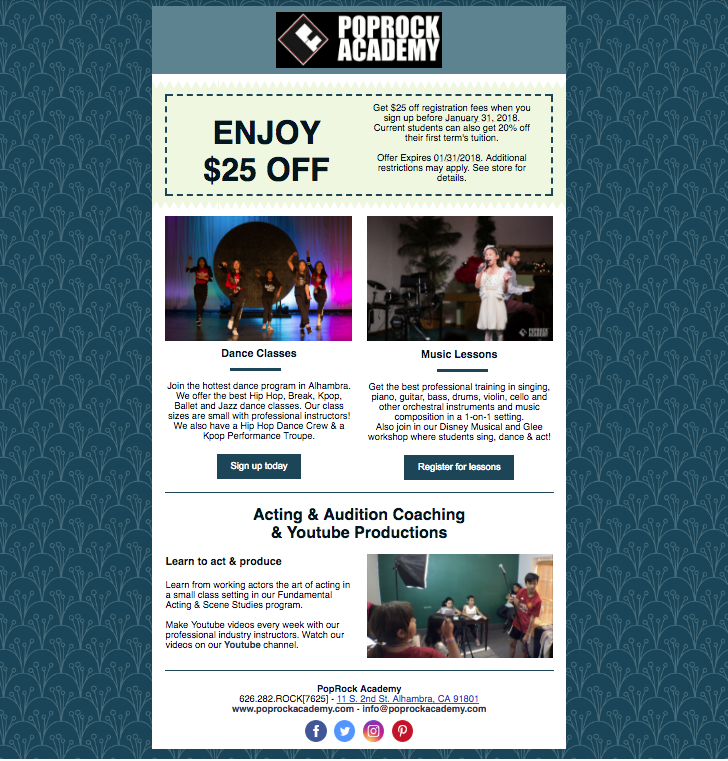 ENJOY$25 OFF Get $25 off registration fees when you sign up before January 31, 2018. Current students can also get 20% off their first term's tuition.
Dance Classes
Join the hottest dance program in Alhambra. We offer the best Hip Hop, Break, Kpop, Ballet and Jazz dance classes. Our class sizes are small with professional instructors! We also have a Hip Hop Dance Crew & a Kpop Performance Troupe. Offer Expires 01/31/2018. Additional restrictions may apply. See store for details.
Get the best professional training in singing, piano, guitar, bass, drums, violin, cello and other orchestral instruments and music composition in a 1-on-1 setting. Also join in our Disney Musical and Glee workshop where students sing, dance & act!

Acting & Audition Coaching & Youtube Productions

Learn to act & produce! Learn from working actors the art of acting in a small class setting in our Fundamental Acting & Scene Studies program. Make Youtube videos every week with our professional industry instructors. Watch our videos on our Youtube channel.