General Information
Original music is what moves music forward, and PopRock Academy is a fan. We love to nurture new original artists and help them develop their own voice and sound. We want our students to grow aside from being a performer, as original artists.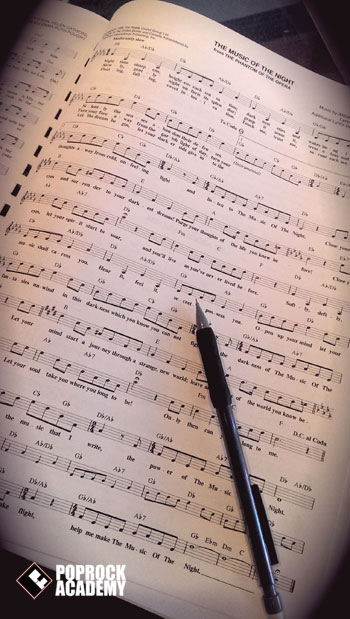 Our songwriting and composition program is taught by professional songwriters and composers who has years of experience nurturing young minds. We offer private one on one lessons where students will learn the technical aspect of songwriting and composition as well as guide our students towards production of their written music.
Requirements
Students who wish to take private lessons in songwriting and composition must have fundamental keyboard skills and a foundation in music theory.

For songwriters, we recommend a minimum of 2 years of piano lessons with an emphasis on improvisation and chart reading and/or 2 years of guitar lessons with an emphasis on improvisation. If a student studied outside of PopRock Academy and has not had improvisation or chart reading skills as a part of their piano or guitar lesson, we recommend at least 3 months of piano improvisation and chart reading skills or guitar improvisation lessons at our studio prior to starting songwriting and composition lessons.

For composition, we require a solid foundation in at least 1 instrument plus basic keyboard skills and music theory understanding. Students who do not pass our basic requirements for composition lessons will be required to take concurrent piano and/or music theory lessons or classes until the requirements are satisfactory. We highly recommend that songwriting/composition students continue to take various instrumental and/or voice lessons while taking on composition lesson.

All students are required to take a minimum of 60 minutes lessons each week.
Curriculum
Songwriting and composition students will work with an instructor to create their original music. Songwriters will work with veteran songwriters who have written and released original songs while composition students will work with established composers who are well versed in the art of music compositions. Students will bring in original material weekly to the lesson to the instructor, who will provide valuable feedback and notes for the students to take home to work on.
Masterclass, Performance and Recordings
Once students have songs or compositions that are performance ready, students will work together with their instructor to prepare for live performances. Students can perform their own works at our masterclasses and at our recitals. Any additional performers needed for the student performance is the responsibility of the student. Students can workshop their work-in-progress at our masterclasses. Completed works can be performed at recitals. Students who wishes to have a song produced can sign up for music production packages at our front desk.
Songwriting and composition is hard work. Students must have solid musical background in order to take full advantage of these lessons. Students will get to work with amazing composers and songwriters who will provide valuable insights to their original works.