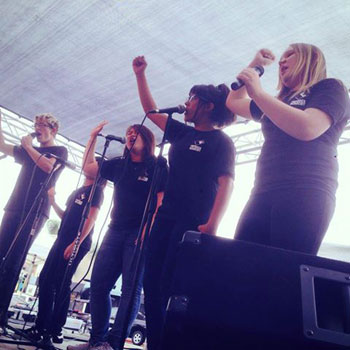 Welcome to Alhambra's best summer camp program for children. PopRock Summer Camp in Alhambra offers kids from age 8 to 14 the opportunity to learn singing, dancing, acting and more in a fun filled, exciting atmosphere. Students will learn from professional performers techniques in singing, hip hop and jazz dance, and on stage and on camera acting.
Our summer camp has helped hundreds of kids in the Los Angeles area to build confidence while learning how to perform. Our singing class will teach students fundamental singing techniques as well as on stage performance techniques. Our acting class will teach students how to act both on stage and in front of a camera. Our dance class will teach students either Hip Hop or Jazz dance techniques depending on the week. Students will also get the chance to be a part of our signature Triple Threat Glee Workshop program. Students will learn how to put the three skills together into 1 performance. Students will learn performance techniques in a short contemporary musical theater style scene and number. Each week, students will also have a special class only available for the week such as Rock Band, Musical Theater Workshop, Pop Workshop, Break Dance etc.
Don't hesitate and give us a call now. Space is limited and we are on a first come; first served basis. Call us early for savings at 626.282.ROCK[7625] or contact us here. We look forward to seeing you this summer!
Request Info