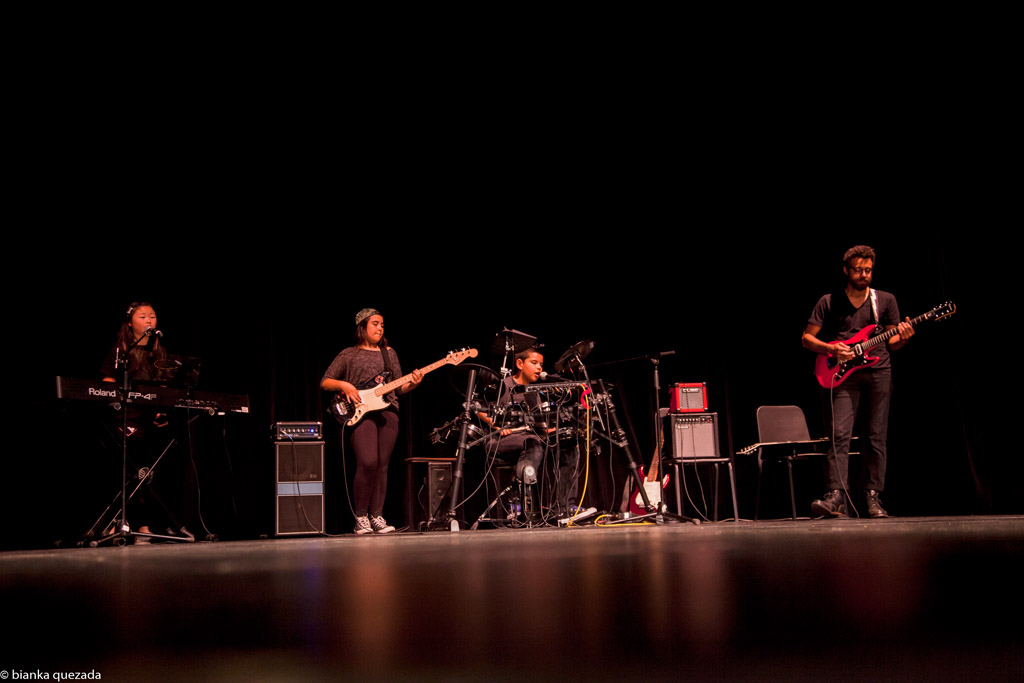 We are introducing a new way for students to begin their musical experience. We wanted to create a course that is not just a group class where students are taught the same material in a private lesson but in a less favorable setting. Instead we wanted to create a class that will benefit both novice students with no experience as well as students who are currently in private lessons. Our PopRock Jam Sessions will provide novice students a way to experience various different instruments and singing side by side with students of various levels of experience. This course will emulate many real world experience where musicians work with other musicians of varying levels. We also believe this interactivity will inspire students and motivate them in their own musical studies.
Curriculum:
Students will join in with our experienced music director each week to work on various musical arrangements. Students does not need any previous instrumental music experience, though knowledge of C, G, D, F chords are helpful. We have limited pianos and keyboards, Guitars, Basses, Violins, Drums and Percussion instruments available at PopRock for students who does not have access to an instrument. (Students are only provided instruments at PopRock Academy campus. Students who wishes to practice at home will need to purchase or rent their own instrument.) Students are welcome to bring their own instrument. We welcome most other instruments, but we do require prior approval so that we can properly prepare material for the instrument. *Please note that although basic technique is provided in this class, it is not a replacement for private lessons.
Requirements:
We welcome students of all levels to join in our weekly jam sessions. Students bring their own instrument of choice or will be assigned an instrument or sing harmonies with our jam group. Both experienced and novice students will get an opportunity to explore various instruments and sounds by jamming with a group of musicians to accomplish a group goal.
Course Material:
A limited selection of instruments are provided to students joining the class. Students may bring their own instrument of their choosing (subject to approval) to participate in the class. Students who do not bring their own instrument will be assigned an instrument based on availability. Unfortunately we cannot guarantee student's requests if student does not bring their own instrument. All PopRock instruments must stay on the premise of PopRock Academy. All music performed in the session is covered via the $10 material fee.
Sign up:
Students must pre-register at least 1 week in advance of the first class in order for our instructors to properly prepare material and assign instruments as necessary. Students must commit to the entire month when signing up for the band jam session. Students can bring their own instrument or choice or be assigned an instrument in the class. However students are not allowed to take any instrument home.
*The course is a part of the ongoing program package with an added $10 material fee.
Performance:
PopRock Jam Sessions will perform at the end of each semester at our annual recitals. Advance bands may be invited to perform at other PopRock public engagements. Students must be enrolled a minimum of 3 months prior to performance.

Click here for a complete schedule of classes.
Request Info