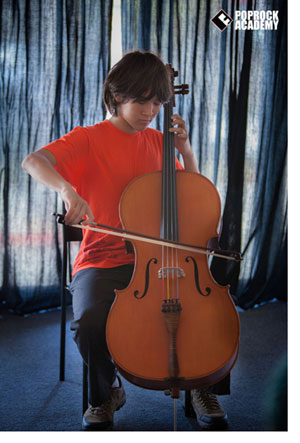 Violin & Cello has a long history in music and we here at PopRock Academy is proud to have a dedicated staff teaching violin and cello to our young students. We focus on tone and technique as well as teach our students how to read music in our cello lessons in a fun and engaging manner.
Our violin and cello lessons starts at 30 minutes for young students.
There are at least 10 benefits of studying cello at PopRock Academy:

1. Our highly trained teachers will work one on one with our students in a private setting to teach them all the necessary techniques for them to perform beautifully on their instruments.

2. We keep students excited about their studies here at PopRock with lots of performance opportunities including our annual recitals as well as additional performances such as our Second Sunday Series.

3. We teach our students from a Classical music foundation while simultaneously giving them different contemporary genres of music to explore.

4. Our highly trained teachers have Classical degrees from prestigious Universities as well as real world cello performance experience with today's hot artists, making our program one of the most unique around.

5. Students will also get opportunities to work with other students and enjoy being a part of a community of young aspiring musicians who enjoys what they do.

6. Students will study from well established methodologies of cello performance.

7. Our teachers make the lessons fun and engaging.

8. We have a team of highly trained staff to help with your studies here.

9. We have special discounts for our students when they buy books, gears or studying multiple classes or lessons with us.

10. We care about our students and want our students to love their musical studies and we nurture and foster that environment here so that students continue to be excited about music and to grow.
Give us a call at 626.282.7625 or email us at This email address is being protected from spambots. You need JavaScript enabled to view it.
Request Info